If you, your children, your students, your family members or your friends are on the hunt for an ideal place to learn Spanish and have fun whilst doing so, then look no further than Tenidiomas in Jerez de la Frontera – a beautiful city in the south of Spain. The list of different options for courses which this institution offers is endless, ranging from semi-intensive Spanish courses to courses which include picking up a traditional Spanish sport, such as Flamenco. This means that there is something for everyone, so read on to find out more!
My Experience at Tenidiomas
First time around
My name is Sylvie. I first attended courses at Tenidiomas when I was 17, and I completed a week here doing both a group course as well as an individual course. I came to Jerez with my mum who speaks quite good Spanish, and we stayed in a hotel. Due to these factors, I wasn't fully immersed, but despite this, my Spanish did improve immensely over the course of the week, thanks to my classes at Tenidiomas. I had my group classes with Nay, who made them extremely enjoyable from the start – and did the same the second time that I came here! On top of making the classes enjoyable, both these teachers spoke very clearly throughout, therefore resulting in the ability to understand what was going on throughout my classes well.
Second time around
On the other hand, I returned to Tenidiomas more recently, only this time I was a lot more immersed due to the fact that, through the organisation of Tenidiomas, I stayed with a Spanish host family and did work experience as well as my classes. I also came here alone and not with my mum. Furthermore, I was here for three weeks. Not only were the classes second time around just as great (if not better) than the first time that I came, but my host family were so lovely with two very sweet children and a very cute pug! Not to mention the fact that I completed my work experience in the office at the school, completing some experience in the world of marketing. For the most part, I was doing corrections of English translations on the Tenidiomas website, which included checking for any grammatical errors or vocabulary errors. I did some whole page translations too from Spanish to English, which for me personally, was perfect as my current end goal when it comes to my career is to be an interpreter or a translator. It was very handy too as I could simply complete my classes for the day and then go straight into the office. Everyone who either taught me in my classes, who I worked with during my hours of work experience, or who I met briefly whilst spending my time here were all extremely nice and welcoming. These members of staff included Nay, Isabel, Sonsoles, Carlota (all with whom I had classes), Ana (who I worked with for my experience in marketing) and other staff members.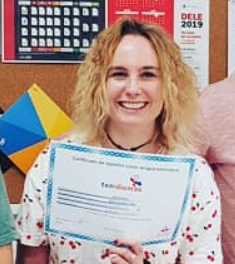 Advantages of choosing Tenidiomas
Extremely close to the amazingly picturesque town centre of Jerez.
Very supportive and friendly staff who will respond to your every need.
A very large, varied range of courses to choose from at reasonable prices.
Organisation of classes, work experience and accommodation all through the amazing staff at Ten.
Resources included, such as a workbook filled with tons of different exercises to continue with after the course.
The opportunity to meet a huge range of people of different ages and from different countries.
Good hours